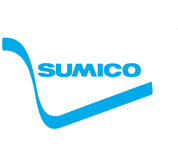 Uniglobal Co., Ltd. is the authorized distributor of Sumico Lubricant Co., Ltd., a Japanese leading lubricant manufacturer since 1957 who performs solidly in the fields of lubricant involving heavy load, high temperature, and other environmental factors in which general factors in which general lubricants are incompatible.

Under Sumitomo Metal Mining Company, Sumico Lubricant is effectively using the mineral known as Molybdenum Disulfide (MoS2) that surpass other lubricants in heat resistance and load carrying capacity. Besides MoS2 lubricants, Sumico Lubricant also offers wide range of 530 products that are suitable for various principle uses, such as, general purpose lubricants, mold release agents, cleaning agents, and rust preventive.

Similar to Sumico Lubricant, Uniglobal is committing to offer the excellent products and methods relating to lubrication for assembly and maintenance in order to solve problems as today's social climate requires the reductions of investment/cost and stable operations, which meet the customers' satisfaction.